A new fossil fuel project has emerged from the shadows and been approved with amazing speed and negligible public input: a liquified natural gas (LNG) export terminal along the Delaware River in Gibbstown (Gloucester County).  On June 13, 2019, the Delaware River Basin Commission (DRBC) unanimously approved  dredging for a deep-water seaport along the Delaware.  This would be the first LNG export facility in the Delaware River basin.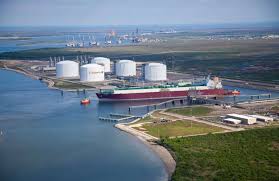 New Fortress Energy wants to liquefy gas from western Pennsylvania's fracked shale fields, and truck millions of gallons per day of the resulting LNG hundreds of miles through PA and NJ communities to Gibbstown, where ships would export so-called the "freedom gas" for sale overseas.  The LNG export plan was kept secret by NJ DEP, the DRBC, and other agencies for at least 2 years, records have revealed, allowing the project to creep ahead and depriving the public of knowledge and input.
LNG facilities are extremely dangerous to the nearby communities and can have wide-reaching environmental consequences. Toxins from the site can leach into the ground from the underground tank. These toxins can threaten the Delaware River which provides drinking water for millions of people in Pennsylvania and New Jersey. Since the River is tidal, a spill or explosion could impact our drinking water supply. Sensitive ecosystems like wetlands along with endangered species like the Atlantic sturgeon could also be impacted.
This expansion of the use of fracked gas would be a step in the wrong direction: when we need to curb the use of fossil fuels to fight climate change, this project would accelerate it.
While there have been some permit applications for development at the site over the past 3 years, none of the publicly-available documents mention that the site would be used for LNG export.  The Delaware Riverkeeper Network discovered the LNG proposal only by its own investigation, not from public documentation. Governor Murphy likes to say that he "calls balls and strikes" when deciding on whether projects should be approved.  In this case, however, one of the teams here is playing "hide the ball" and trying to pull a fast one on the public.
The DRBC consists of one representative from each of NY, NJ, PA, DE, and the Federal government.  The rushed vote to approve the LNG terminal was unanimous -- Governor Murphy's representative included.  The Governor has not yet gotten the message that his own plan to make New Jersey a clean energy state is directly contradicted by his Administration's actions.  This action must be reconsidered in light of the insufficient disclosure to the public of the true nature of the development project.  An open public review and comment process must be followed before any vote on approving this project.
No one should have to live in fear of an explosion or catastrophic fire in their backyard. The river cannot be sacrificed for dangerous LNG export. Add your name to this petition to oppose this dangerous project!